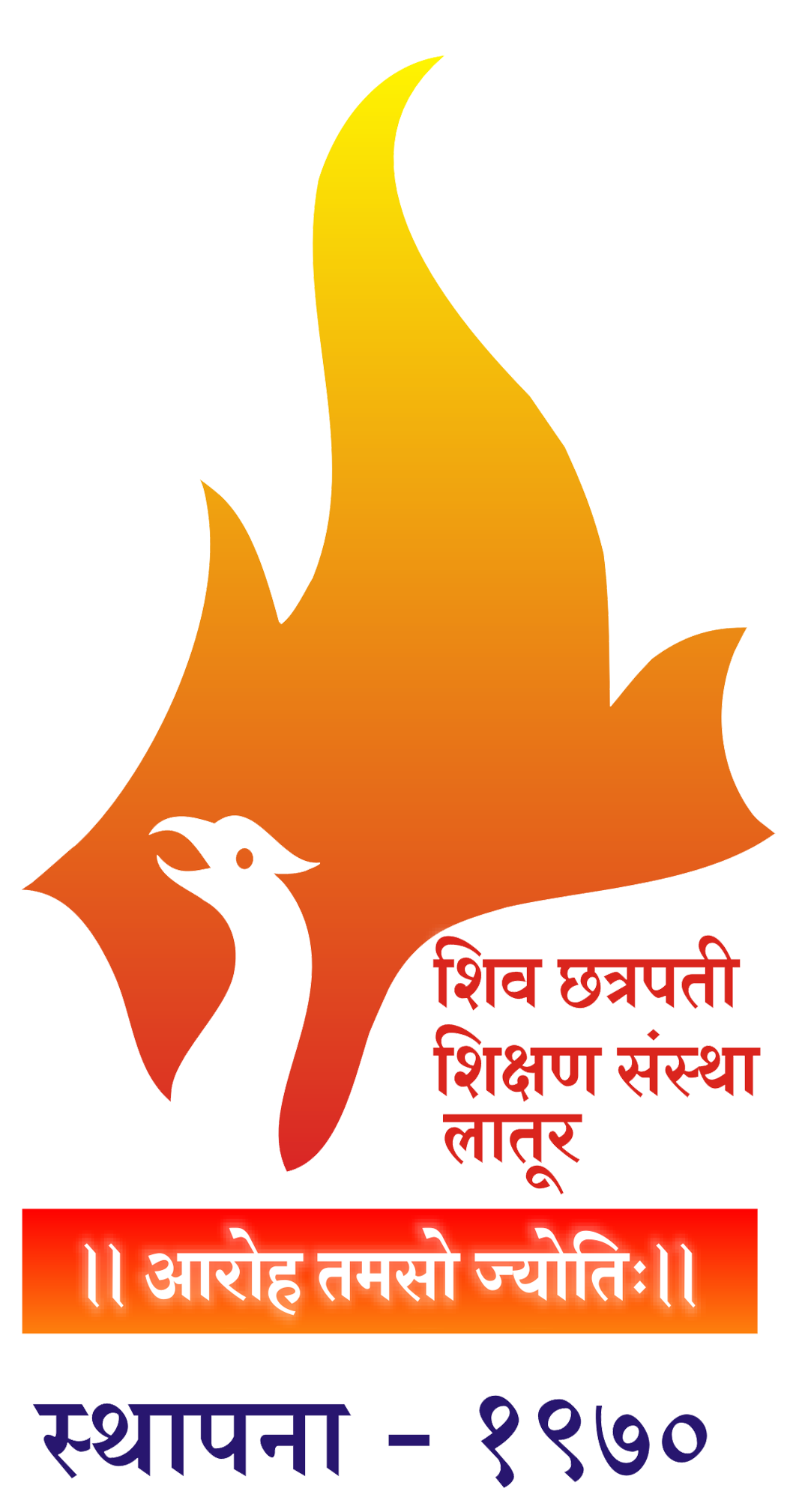 Shiv Chhatrapati Shikshan Sanstha's
Rajarshi Shahu Mahavidyalaya, Latur
(Autonomous)
---
About Hackathon
---
The Information Technology Department Of Rajarshi Shahu Mahavidyalaya (Autonomous), Latur aims to provide quality education in the information technology field with the finest environment for teaching, learning, research, innovation and character building.
Hackathon is coding competition where students, software programmers, developers and designers come together to solve real life problems. A group of tech-savvy individuals collaborates intensively to innovate and develop influential solution to a problem using technology
Patrons
Dr. Gopalraoji Patil
President ,SCSS Latur
Dr. P.R.Deshmukh
Vice-President,SCSS Latur
Prin.Anirudh Jadhav
Secretary,Scss Latur
Chief Organizer Organizing Secretary
Dr. Mahadev Gavhane
Principal ,SCSS Latur
Prof.Sadashiv Shinde
Vice-Principal,SCSS Latur
Dr. Abhijit Yadav
IQAC Coordinator,Scss Latur
Organizing Joint-Secretary
Prof.Manjusha Shinde
Contact: 9922748999
Prof.Manoj Birajdar
Contact: 9975175899
Prof. Bhairavnath Gorde
Contact: 8805053468
IT Dept. Coordinators
Prof. Vishwanath Panchal
Scss Latur
Prof. Jyoti Mashalkar
Scss Latur
Organizing Committee
All IT Dept. Members Rajarshi Shahu Mahavidyalaya (Autonomous), Latur
---
About Prize
---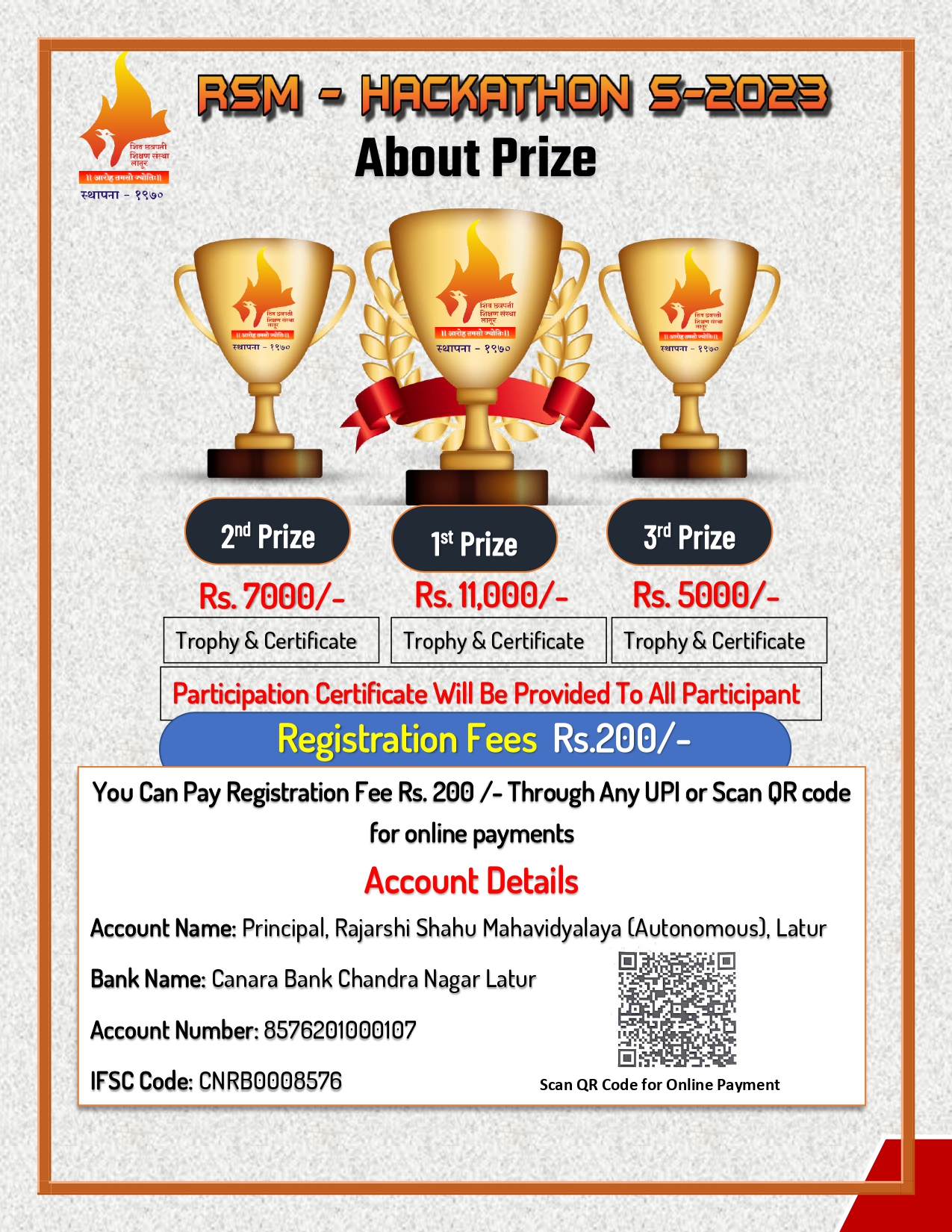 ---
Broad Areas
---
Health Care
Education
Governance
Indian Culture
Gender Equality and Women Empowerment
Social Good
Environmental Sustainability
Advanced Technology
---
General Guidelines & Rules
---
The team must be of 1 or 2 or 3 member/s
Select any area as specified, identify & define the Problem statement.
Only the registered teams will be allowed to participate.
Last date of Registration :26 MARCH 2023 up-to 7:00 pm.
Participants have approximately one month of duration for developing their module.
They should prepare module from their own place
After one month "Demonstration of Module " will be conducted strictly in OFFLINE Mode.
Tentative date of competition will be the FOURTH WEEK of March - 2023 in offline Mode.
Join Telegram group to get further updates about the competition.
The Participation Certificate will be provided to all the participants.
Registration of every team is compulsory.
Note: Registrations will be confirmed after receipt of registration fees. Online registration will remain open upto 26.03.2023.
---
How To Register
---
First Pay Registration Fee Rs. 200 /- Through Any UPI or by Scanning QR code
Then fill registration form through given link or through scanning QR code
Then join RSM-HAKATHON Official telegram group for further RSM HACKATHON COMPETITION details
Visit Our Website:
Click On This Link for More Details https://www.shahucollegelatur.org.in/.
Join Telegram Group:
Click On This Link or Scan QR Code for More Details https://t.me/+GO3sv-kvKqA3ZjE1.
Register Online:
Click On This for More Details https://forms.gle/bYQT12C1zxbNYeyf8.
---
STUDENT HELPLINE PAGE
---
PROF.MANJUSHA SHINDE
Contact: 9922748999
---
PROF.MANOJ BIRAJDAR
Contact: 9975175899
---
PROF. BHAIRAVNATH GORDE
Contact: 8805053468
---
REGISTRATION FEES:
RS.200/-
LAST DATE OF REGISTRATION:
26 MARCH 2023 AT 7 AM