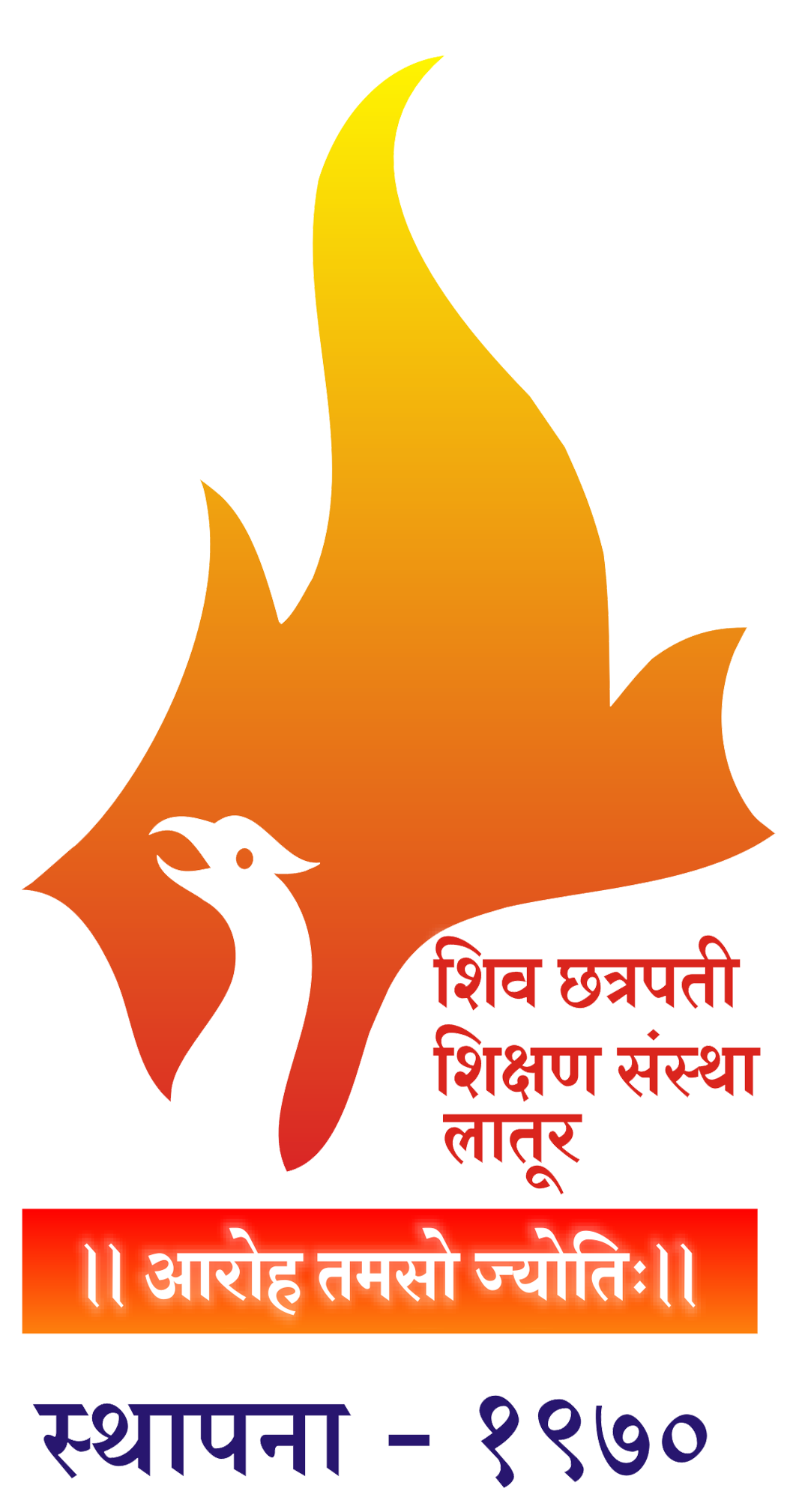 ---
Shiv Chatrapati Shikshan Sanstha ,Rajarshi Shahu Mahavidyalay, Latur (Autonomous) is only one autonomous institutes in Marathwada Region that have evolved with time to be at par with the global educational world. The Pursue of Excellence, high energy and motivation of our students, as well as their challenging work environments, assure that they bring an added measure of maturity and knowledge in the classroom and life of students. The interaction between students and professors greatly enriches the educational experience for all.
This is the world of technological innovations. In this dynamic world, it is mandatory that the young minds of our country be nurtured and encouraged to be placed at the highest pinnacle of success. The combination of bright, dedicated students and expert professional faculty results in a great learning environment. Rajarshi Shahu Mahavidyalay, Latur is an exciting place to study and grow. It is a place where thinkers become leaders, a place where the thirst for knowledge fuels our desire for distinction.
Our faculty members are experts in the areas they teach. Not only do they provide a solid grounding in the academic theories and concepts of their specialty, they also provide the students with insight into the practical issues and challenges currently facing their discipline. They provide our students the right balance of theory and practical. We emphasize group work allowing each student to be benefited from the quality and diverse cultural and business backgrounds of their classmates. We also foster a strong partnership between students, faculty and staff in the learning enterprise.
The intensive training and the encouraging learning environment of our institute has made them proficient in the basic as well as specialized field of relevance. The various value added courses being imparted at the Institute have given adequate exposure to our students. Apart from core technical skills, our students are competent in soft skills too based on their add on courses, which we conduct at our campus. There are 12 different add-on courses we run in our college to enrich students employability skill. This college has provided a perfect environment for developing the overall personality of the students.
We are confident that these young students would be an asset to your organization through their human value, technical and managerial capabilities and their talent for innovation. Our aim is to actively assist you in attracting and identifying the students best suited to your needs and in developing a successful recruitment relationship.
Further, I express my sincere thanks to all those organizations that have extended their active co-operation to the department in accomplishing its endeavor successfully. I indeed have a great honor to present the students to your esteemed organizations as I look forward to your cooperation in the placements of our students.
Token of Appreciation
---
View List
| Sr.No. | Certificate Name | View |
| --- | --- | --- |
| 1 | Rubicon | View |
| 2 | A Special Recognition To | View |
| 3 | Certificate of Global Skill Academy | View |
| 4 | GTT Annual Excellence Awards 2020 | View |
| 5 | Vibrant Publishers | View |
| 6 | Token of Appreciation From Barclays Group | View |
| 7 | Token of Appreciation From ICICI Bank | View |
| 8 | Token of Appreciation From GTT | View |
Placement cell report
---
View List
| Sr.No. | Name | Date | Report |
| --- | --- | --- | --- |
| 1 | TCS Workshop | 01/07/2020 to 29/08/2020 | View |
| 2 | How to Ace the Job Interview | 10/12/2020 | View |
| 3 | Barclays Connect with work CSR Training Program | 22/12/2020 to 24/12/2020 | View |
| 4 | Certified Campus Recruitment Enhancement Training Program | 21/01/2021 | View |
| 5 | Soft Skill and Personality Development Workshop | 19/01/2021 | View |
| 6 | On the Occasion of National Girls Child Day Career Development Workshop | 24/01/2020 | View |
| 7 | Investor Awareness and Introduction to Capital Markets | 22/12/2020 | View |
| 8 | Placement Cell Report | 2019 - 20 | View |
| 9 | Placement Cell Report | 2018-19 | View |
| 10 | Placement Cell Report | 2017-18 | View |
| 11 | Placement Cell Report | 2016-17 | View |
| 12 | Placement Cell Report | 2015-16 | View |
---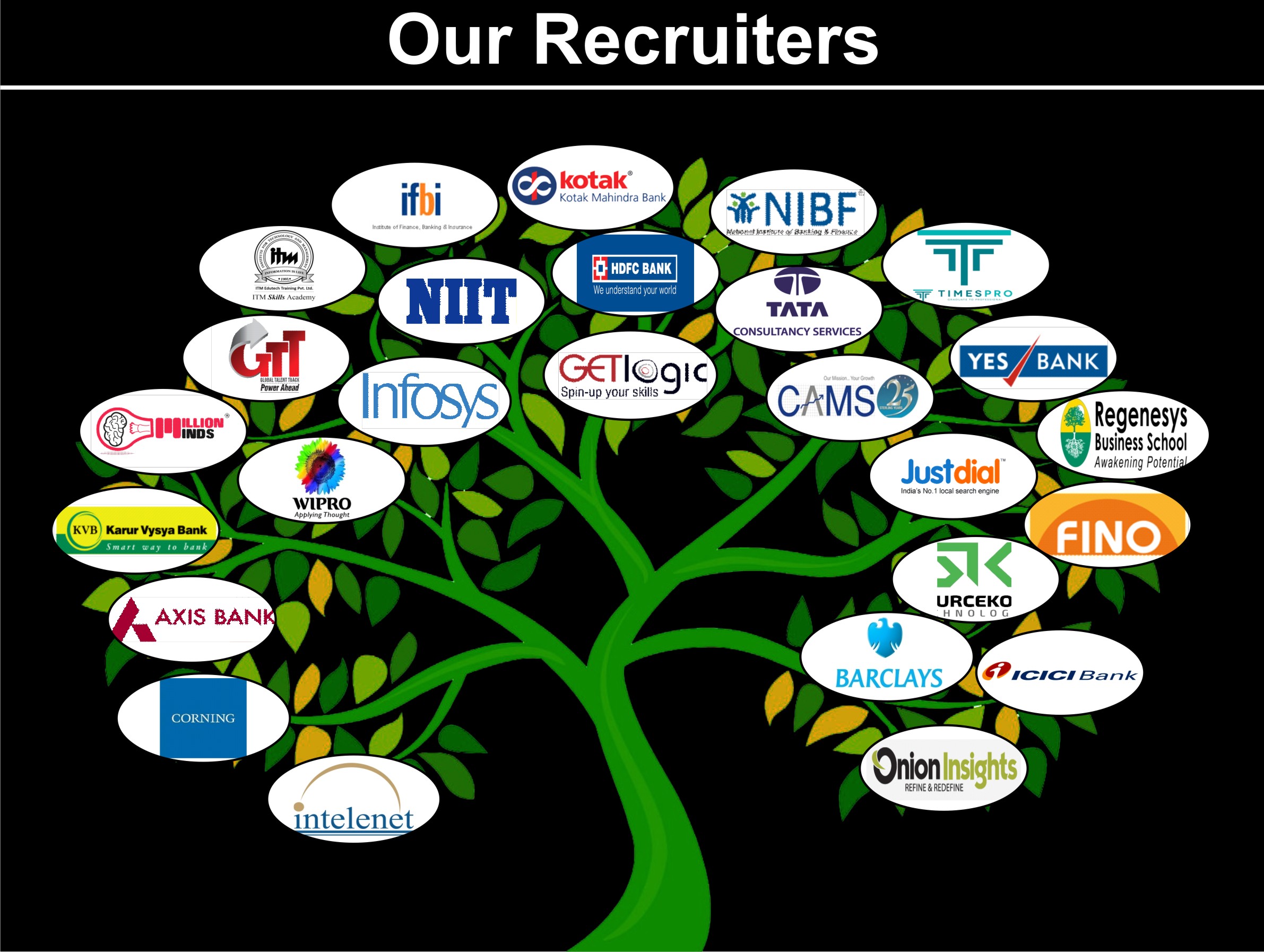 ---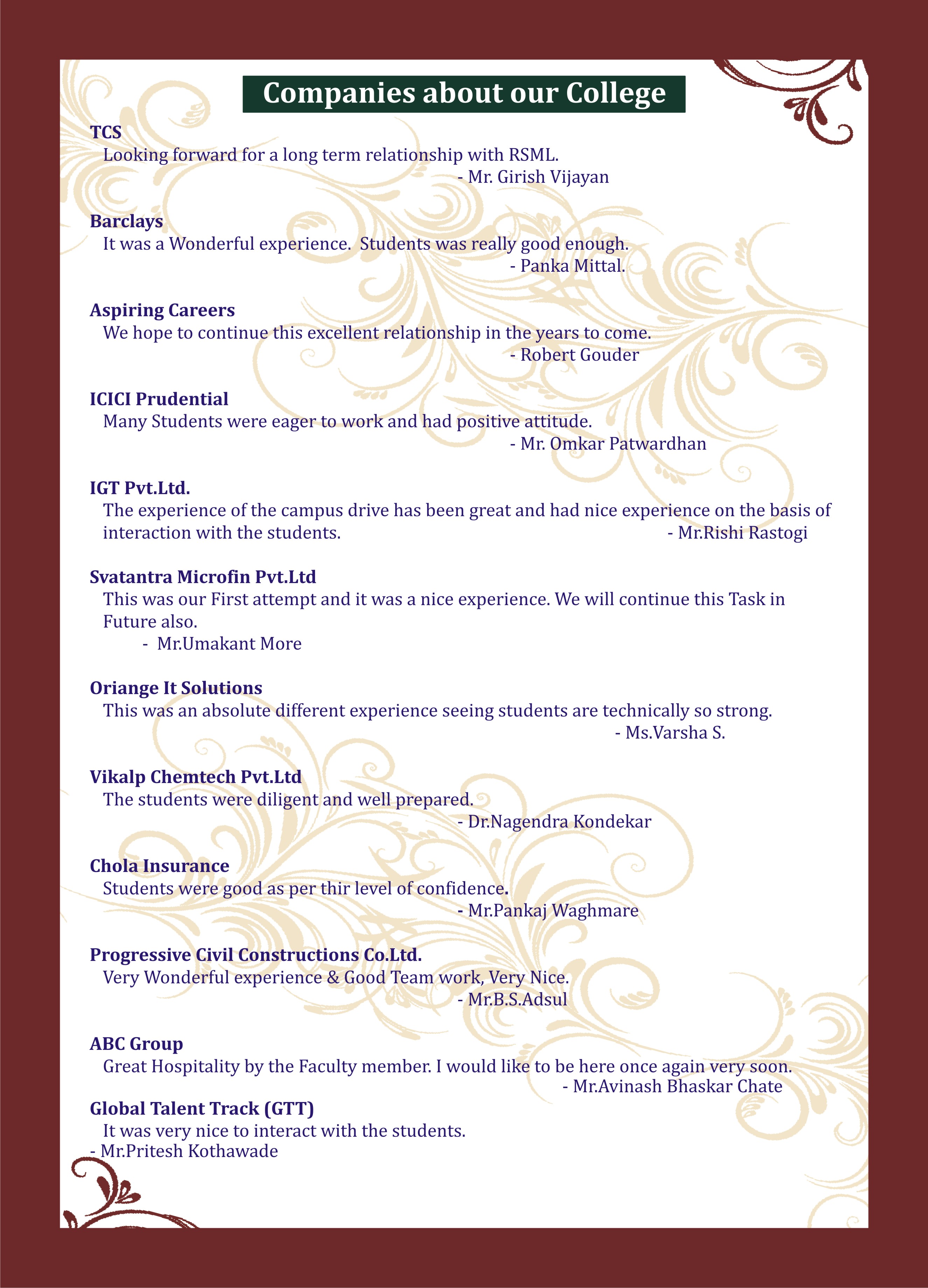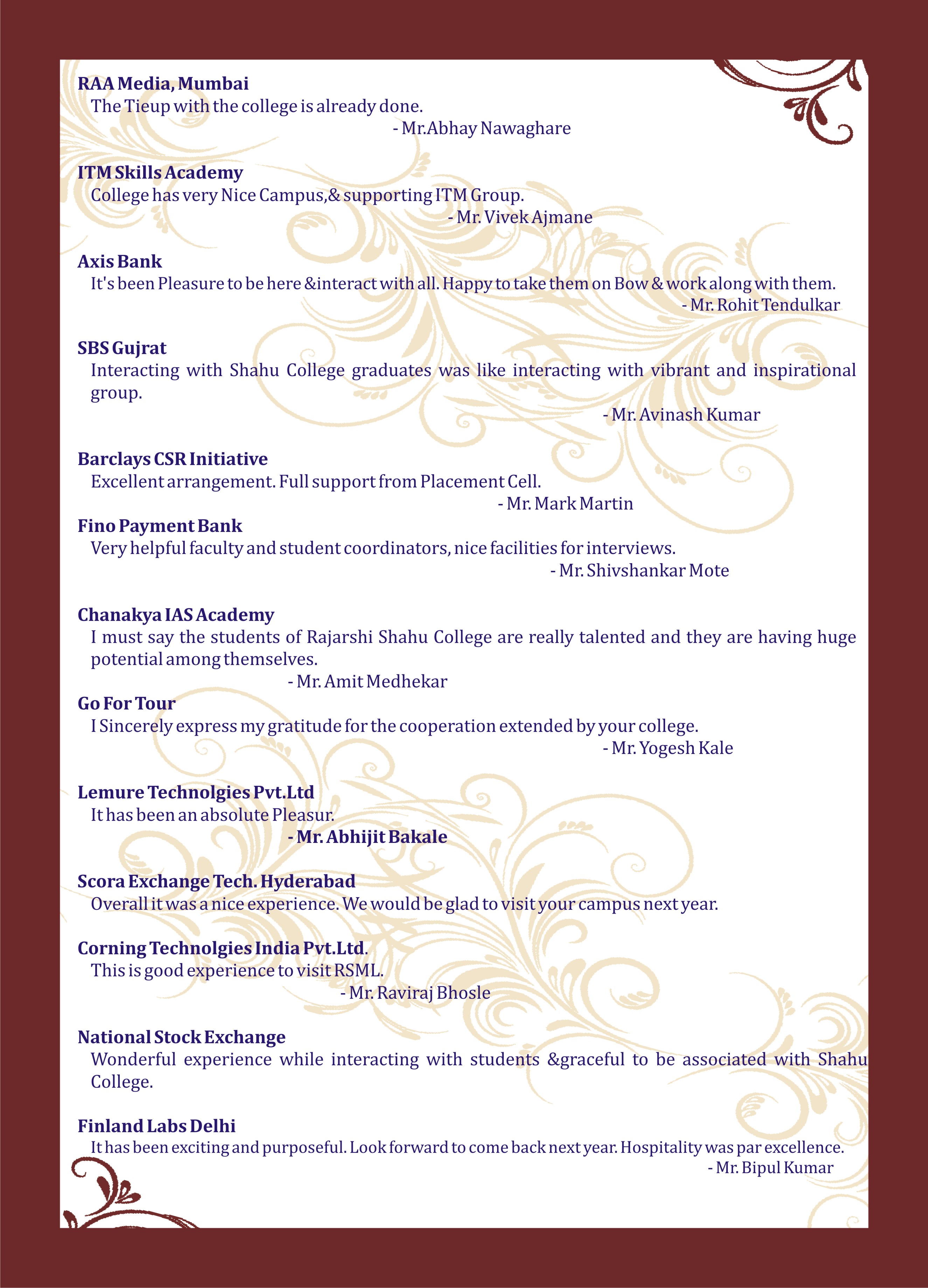 Activities
---
2021-22
| Sr.No. | Name of Activity | Date | Activity Report |
| --- | --- | --- | --- |
| 1 | Webinar on Supply Chain Internship Program | 8/10/2021 | View |
| 2 | Bajaj Certified Programme for Banking Finance and Insurance | 7/27/2021 | View |
| 3 | Webinar on Internship Programme | 8/5/2021 | View |
| 4 | Corporate Readiness Life Skills | 9/18/2021 | View |
| 5 | Webinar on Career Opportunities in Banking Financial Institutions | 8/12/2021 | View |
| 6 | Workshop on How to Create a Professional Resume to Land your Next Dream job | 9/24/2021 | View |
| 7 | Free Training on Full Stack Web Development and Data Analytics by Black Rock | 4/29/2022 | View |
| 8 | 3 Days Employability Development Program | 27-02-2022 to 29-02-2022 | View |
| 9 | Webinar on Recent Trends in Digital Business | 10-01-2022 | View |
| 10 | Recent Trends in Digital Business | 29-03-2022 | View |
| 11 | Webinar on Future of Blockchain & Crypto Currency | 04-04-2022 | View |
2020-21
| Sr.No. | Name of Activity | Date | Activity Report |
| --- | --- | --- | --- |
| 1 | TCS Affirmative Action Workshop | 01/072020 To 29/08/2020 | View |
| 2 | Barclays Connect with work CSR Training Program | 22,23 & 24/12/2020 | View |
| 3 | Certified Campus Recruitment Enhancement Training Program-2021 | 21/01/2021 | View |
| 4 | Soft Skill and Personality Development Workshop | 19/01/2021 | View |
| 5 | How to Ace the Job Interview | 10/12/2020 | View |
| 6 | Investor Awareness and Introduction to Capital Markets | 22/12/2020 | View |
| 7 | On the Occasion of National Girls Child Day Career Development Workshop | 24/01/2020 | View |